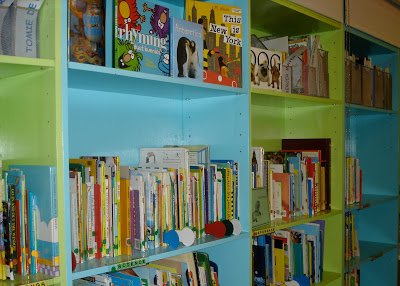 Last week in class with my 3-4 year olds I asked the dancers what they wanted to dance about. One little one raised her hand and said she was going to the library after class. I said, why wait until after class, let's go now! Here's what we did…
First, I asked the dancers to name some of their favorite books. They named books about Minnie Mouse and elephants. Also, books about a tree and a fire truck. These were all great images to dance about!
To start the dance we looked for books on the shelf, high and low. Once we found a book we liked we sat down and opened it. The first thing we saw were images the dancers mentioned above. We closed the book and did movement about the elephants. Then we repeated, searching high and low for the next book and did a dance about a fire truck. I did about four different books to get the range of creativity in!
If I would have been prepared for this dance, I would have brought real books to put around the room. Next time, I will lay them on the floor and each "mini dance" will be inspired by the images they see in the book. I think either way it's a great dance!
Have you ever done a library dance with your littles? I would love to hear! xo